Specialty License Plates - Funding the Arts
The arts are getting cut from state budgets across America. In Tennessee, we are fortunate to have an additional source of funding. The extra revenue we receive from specialty & personalized license plates sales has been the key to our survival.
More than 70% of the money used to fund the 800+ grants from the Tennessee Arts Commission last year was from the sale of these specialty license plates – clubs, organizations, collegiate, environmental, fraternity & sorority, sports, wildlife, etc.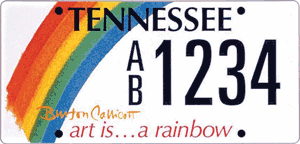 To purchase your Arts license plate, click HERE